Our Summer Cure Chefs Wine Dinner
was graciously hosted by the Windsor Court Hotel New Orleans
Our fabulous Co-Chairs Pat Denechaud, Holley Haag,
Kristi Post, Dottie Reese, Coordinator Joe Briand and Committee Members Regan Forrester, Marbury Little, Jennifer Neil and Elizabeth Williams put on a wonderful event honoring 5 outstanding chefs who each prepared a delicious course paired with Wine Importers Extraordinaire. This year marked the 18th Annual Komen New Orleans Summer Cure Chefs Wine Dinner.
Our 2019 Spectacular Chef line-up included: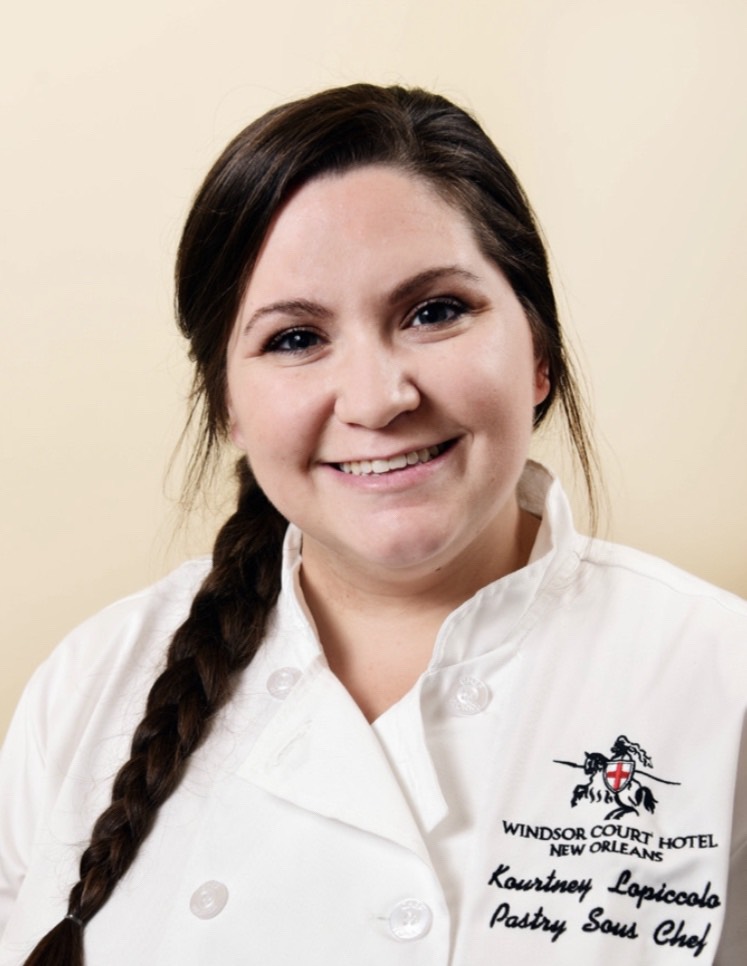 Host Chef Kourtney Lopiccolo, 
The Grill Room, Windsor Court Hotel
Kourtney Lopiccolo is our Windsor Court Pastry Sous Chef. She is a lifelong resident in the New Orleans area. She is accomplished with two degrees from Delgado Community College by Associate degrees in Business Management and Culinary Arts, with concentration in Pastry Arts. She started with The Windsor Court as a Pastry Cook in 2016. Her talents were proven through creativity and attention to detail for high end cuisine and presentation of superior dishes. She was promoted to Pastry Sous Chef in 2017 and continues to raise the bar for the hotel.
Food & Wine Magazine's People's Best New Pastry Chef Nominee
Chef Bronwen Wayatt, Baccanal Wine & The Elysian Bar

Bronwen Wyatt has overseen programs at James Beard Award-winning restaurants La Petite Grocery, Shaya and Willa Jean. In her new role, Wyatt is pleased to spearhead the development of the pastry and dessert programs at Bacchanal and The Elysian Bar. Wyatt has been named one of the Top Five Pastry Chefs to Watch by The Times Picayune was nominated for Food & Wine magazine's People's Best New Pastry Chef award and was the first pastry chef deemed as a 'Chef to Watch' by Louisiana Cookin' Magazine.

Chef Alfredo Nogueira,
NOLA's Cane & Table

Chef Alfredo Nogueira started cooking as soon as he was old enough to work, first at the original Zea Rotisserie Grill and then later at restaurants like RioMar and Vega Tapas Cafe. Hurricane Katrina sent Nogueira to Chicago, where he became more serious about cooking. Eventually, he became the executive chef at a bar called Analogue, where he made classic Louisiana food. Soon after, Nogueira returned to New Orleans. He was hired as the executive chef at Cafe Henri, where he created a new menu that reflects his many influences. Chef Nogueira is currently at NOLA's Cane & Table.

Chef Marcus Jacobs, Marjie's Grill

Chef Marcus Jacobs began cooking professionally in his native Ohio at the age of 18. He trained under local Chef Alana Shock until he moved to California where he worked for Chef Judy Rodgers at San Francisco institution Zuni Cafe. After leaving the Bay Area he traveled through Southern Japan, working on farms and learning regional Japanese home cooking. Upon returning to the States he found himself in New Orleans which would soon become his home. Working under Chefs Donald Link, Ryan Prewitt, and Rebecca Wilcomb, Marcus spent seven years at Herbsaint Bar and Restaurant; eventually rising to become the Executive Sous Chef before leaving to follow his dream of opening Marjie's Grill.

One of Hispanic Magazine's Top 8 Latin Chefs in the Country
Chef Adolfo Garcia, LaBoca, High Hat & Ancora

Adolfo Garcia grew up in New Orleans and is the son of Panamanian parents. Years later, as Chef Adolfo, he fuses the tastes of local seafood and Creole dishes with the flavors of the Latin American food he ate at the family dinner table. The result, New Orleans agrees, is a mouth-watering success. His restaurant, LaBoca, is a mecca for those who enjoy Latin spice in their dining. But on Freret Street, Garcia's High Hat, is a classic New Orleans café featuring Southern fare — fried catfish and oyster po-boys — but look for menu surprises like the Cuban sandwich. Next door, his pizzeria, Ancora, offers authentic Neapolitan pies.

Garcia's accolades include being named James Beard 2010 Semifinalist "Best Chef for the South" and "Chef of the Year" by New Orleans Magazine for La Boca as well as one of Hispanic Magazine's Top 8 Latin Chefs in the Country.
Special Thanks to our Partners in Survivorship Sponsors



The van Meerveld Family in Loving Memory of




Karen van Meerveld Davis
Thank You to our Partners in Hope Sponsors 
Joe Briand, Patricia C. Denechaud, Kristi Post,
Elizabeth & James Williams
For information on next year's Summer Cure Chefs Wine Dinner,  please contact the Komen Office at (504) 455-7310 or email info@komenneworleans.org.
Photos from this year's Summer Cure Chefs Wine Dinner are coming soon!