Click here to view photos from our 2017 Summer Cure.
Photos taken by:
Brittney Robins of BRave Photography NOLA
instagram: @bravephotographynola
FB:www.facebook.com/bravephotonola
Our 16th Annual Summer Cure Chefs Wine Dinner
was graciously hosted by the
We are grateful for the continuous partnership of the Windsor Court Hotel for making such a beautiful evening possible. Our Summer Cure committee thanks all of our sponsors, guests, chefs and donors for their support of Komen New Orleans. The success of the Summer Cure makes a significant impact in our fight against breast cancer.
New in 2017, Tico Sighting LLC, using state-of-the-art equipment and technology will create a visually captivating experience for our 2017 Summer Cure Chefs Wine Dinner. Tico Sighting's vision will offer technology-driven creative murals showcasing the Windsor Court Hotel, our featured Summer Cure Chefs and their Restaurants, and our Partner in Promise, Partner in Courage and Partner in Survivorship Sponsors branding by delivering an immersive and interactive experience through the use of large scale projection and installation art.
Our 2017 Spectacular Chef line-up included: 

Host Executive Chef Vlad Ahmadyarov,
The Grill Room, Windsor Court Hotel

As a native Azerbaijani, Vlad Ahmadyarov became acquainted with Louisiana's Creole cuisine long before stepping foot on Gulf soil. Ahmadyarov began working in the industry at 16 in his favorite uncle's restaurants, and credits the early experience for inspiring him to become a chef. Years later, an American company came to Azerbaijan to opened Cajun and Tex Mex restaurants, and Ahmadyarov got his first taste of the cuisine. 
Ahmadyarov mastered the basics and after three years, and he earned the title of chef at both restaurants. The owner, a Louisiana native, had opened a new restaurant in Folsom, Louisiana, and invited Ahmadyarov to migrate to the states in 2000. He worked at Winners Circle for two years before moving to New Orleans to work at the Ritz-Carlton before transferring to the Ritz-Carlton in Boston after Hurricane Katrina.
Back in New Orleans, Ahmadyarov took on the role of executive chef at the city's storied Windsor Court Hotel, where he oversees the hotel's food and beverage operation. Ahmadyarov has grown as a chef in the Creole and Southern tradition and his philosophy is to only use the freshest of Gulf ingredients, including hyper local products from the farmers markets and neighboring farms. 


Chef Bill Briand, Fisher's at
Orange Beach Marina
Fisher's Executive Chef, Bill Briand, spent seven years with Emeril Lagasse and nine with James Beard Award-winner Donald Link while working in the great kitchens of Emeril's, Herbsaint, Cochon and Butcher. Fisher's sources ingredients from the best farmers and fishermen in the area to ensure that they are the finest and freshest available.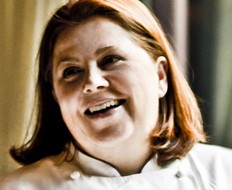 Chef Michelle Weaver,
Charleston Grill
An Alabama native, Chef Weaver was raised with a passion for cooking and learned at an early age the importance of farm-to-table. Her formal training at the New England Culinary Institute combined with her Southern roots and global palette have come together to create a unique and spectacular culinary experience. Sourcing from local farmers and fishermen, her dishes also include some of the richest and highest quality ingredients from around the world. After 16 years at the restaurant, and five years as Executive Chef, she continues to carve out a lasting legacy while developing the reputation of culinary excellence at Charleston Grill.


Chef Justin Devillier,
La Petite Grocery, Balise
Born in California, Chef Justin Devillier became a "forever" resident of New Orleans when he moved there in 2003. With no formal culinary training, he began working in the kitchens of restaurants such as Bacco, Stella, and Peristyle and joined the staff of La Petite Grocery in 2004. He became Executive Chef in 2007 after helping re-establish the restaurant after Hurricane Katrina. He and his wife bought La Petite Grocery in 2010, and he has since been nominated in 2012 and 2013 as a finalist by The James Beard Foundation for the Best Chef South Award. Justin has been an avid fisherman since childhood and tries to make it out on the water at least one day a week, chasing salt water game fish. His favorite junk food is pork cracklin.


Chef Beth Biundo,
Sweets
A native of New Orleans and Pastry Chef at Lilette since 2004, Beth Biundo originally studied pastry at the French Culinary Institute in New York. While in New York, she worked as an event planner and taught pastry classes. She then began her chef career at the famed Windsor Court Hotel in New Orleans and has also worked at such revered establishments as Emeril's, Delmonico, and Cuvee. Before her pastry passion took over, Biundo earned a degree in Art History from Southern Methodist University in Dallas and brings an artistic sensibility to her work, creating unforgettable desserts inspired by her travels throughout the world. She has been named a James Beard semifinalist for "Outstanding Pastry Chef" in 2008, 2009, 2010, and 2011. Biundo launched Beth Biundo Sweets, a pop-up with cookies and cakes. At first it operated occasionally. Then it became a regular business, accepting orders by email. By the end of June, Beth Biundo's Sweets will become a full bakery in Uptown near Martin Wine Cellar.
Thank You to our Partners in Survivorship:

Thank You to our Partners in Hope:
Joseph Briand, Patricia C. Denechaud, Kristi Post,
Judge Kern & Dottie Reese, The van Meerveld family in memory of Karen van Meerveld Davis


Phoenix Professional Services